Introduction
Mystery shopping is a fun and rewarding way to provide meaningful feedback to brands and enjoy new and exciting experiences. This section gives you an overview of the entire evaluation process and illustrates best practices followed by top evaluators.
This guide will get you going in no time!
Signing up for Client Opportunities
Coyle posts new client opportunities each and every day.  These can be found by clicking on 'Open Opportunities' when you log in.  We recommend that you check back frequently to see all of the new and exciting client opportunities in your area.
Are you traveling?  Make sure to search your destination to see if there are any opportunities where you are headed.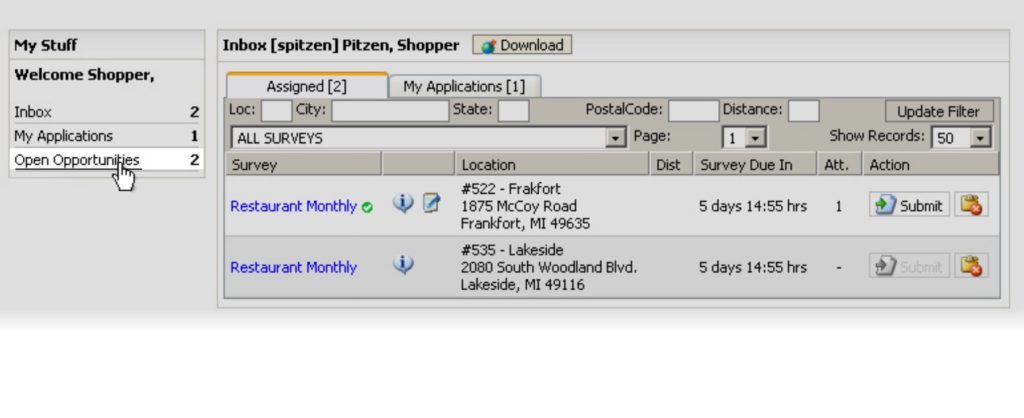 Once you apply, please allow Coyle up to one week to review your application.  If you are selected, you will be notified via email.  If not selected, the request will automatically remove from your Applications area.
Let's talk about a few ways to increase your chances of getting selected:
There are almost always telephone-based evaluations available, which you can perform from anywhere in the world. Getting a few of these successfully completed will help you start building your profile immediately. The more successful evaluations you have, the better your chances are of getting the more desirable opportunities.
The key to getting opportunities is being as flexible as possible and not giving up. Do not get discouraged if it takes a while; there are simply more experienced evaluators ahead of you, but you will get your chance.
Please give your availability for all opportunities. The more dates you are available and the more opportunities selected, the better your chances. Also, it is helpful if you update your availability as it changes.
Mind your scorecard!  Evaluators with the best scores get the best assignments.
Before an Assignment
Before you start the evaluation, it can be helpful to re-read the Resource Center materials. Then, when you are ready to write up your findings, you might find it helpful to first look through the detailed samples.
Read assignment guidelines carefully, as your pay is dependent on following them exactly as provided.
Be sure that you are aware of the report submission deadline, as failure to comply with the submission timeline could result in the submission being rejected.
While you are often allowed to bring a guest along with you, make sure you review the specific instructions. Unless specifically requested by a client, evaluators are not to bring children or pets with them on assignments.
Review all the FAQs before you go.
Payments are indicated in the opportunity post.  Additionally, any travel reimbursements will be noted or the opportunity post will request that you bid for your best available travel. Upon assigning, you will be notified of the approval travel amount.  However, if you are unsure of any payment of travel reimbursement due, please ask a Coyle team member.
If your report is accepted, you should receive payment (check total/reimbursement limit plus fee) via PayPal the last week of the following month. In order to get paid you will need a PayPal account. Coyle does not send paper checks. PayPal payments will be sent to the email address you have registered with Coyle. If you do not have a PayPal account linked to this address, please sign up now at www.PayPal.com.
During an Assignment
Review this guide for best practices to make your assignment and submission a success.
Remember to take pictures of all required items and to save all receipts for reimbursement.
After an Assignment
When you are all done, press 'Check Complete' on the bottom of the survey page.  Be mindful that all requirements are met or you will get an error message.  Often an error occurs if you missed a required question or forgot to add a comment.

If you do find an error, hit 'Cancel' in the pop up box and the system will then place a red box around the item(s) that need to be updated.
Make sure that you upload pictures and receipts using the Upload Image/Document buttons either on a specific question or in the survey.
Once you are fully done, you should now submit your assignment.  Be sure that your submission is completed within the timeframe provided to you in the client guidelines.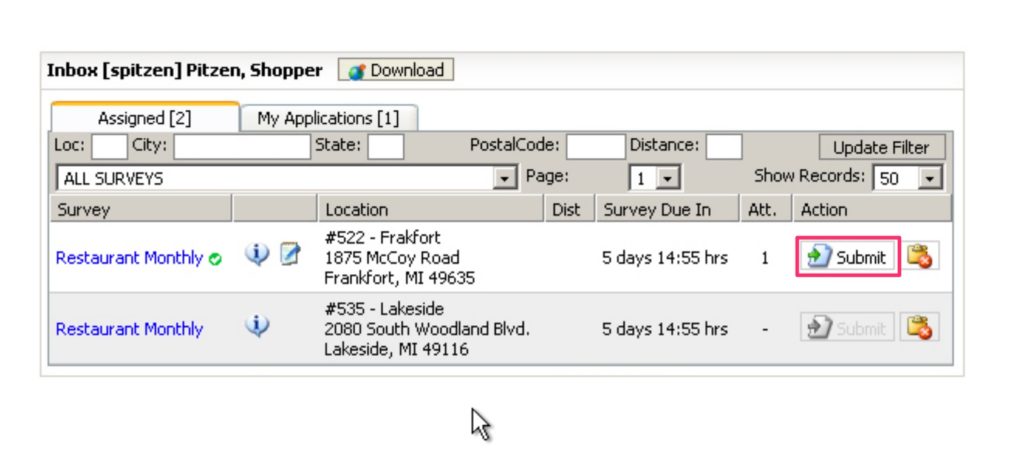 After you submit your assignment, please be prepared for an editor to get in touch with you for follow-up and fact-checking questions. This is normal, even for the most experienced evaluators.  Once the process is completed and the client deliverable sent on to our client, you will be provided with a scorecard that details the completeness and effectiveness of your feedback.  This will assist you in improving your performance on future evaluations.  Please remember, you are required to be available for responses to questions until you are sure your evaluation is complete by way of receiving the scorecard.
For more help on using the online platform, use this video guide.